Hello, dear investors. In this article, I will talk about a project called Deeptradebot.com, which started on 29th Feb 2020. It mainly provides long term deposit plans, and the shortest investment cycle is only 30 days. My former withdrawals were all processed instantly into my Ethereum wallet. Now let's see it in details.
Already scam, don't invest!
Started: 2020-02-29
My deposit: 0.7828 ETH

Investment Plans
Your daily profit will be fluctuated from 0.562% to 1.52%. To start deposit, investors should rent a bot. There are four bots to choose:
| | | | |
| --- | --- | --- | --- |
| MiniBot 5 NFS | StandartBot 10 NFS | ProBot 15 NFS | NetPremium 40 NFS |
| Free | 10 USD | 25 USD | 45 USD |
| 5 NeuroFLOPS | 10(+2) NeuroFLOPS | 15(+5) NeuroFLOPS | 40(+5) NeuroFLOPS |
| 4(+4) Trading Pairs | 6(+4) Trading Pairs | 8(+6) Trading Pairs | 12(+6) Trading Pairs |
| Rental Term: 30 Days | Rental Term: 60 Days | Rental Term: 90 Days | Rental Term: 60 Days |
| Minimal trade balance: 15USD | Minimal trade balance: 45USD | Minimal trade balance: 100USD | Minimal trade balance: 1000USD |
| Maximal trade balance: 250USD | Maximal trade balance: 700USD | Maximal trade balance: 2500USD | Maximal trade balance: 10000USD |
You can follow all steps below to complete your investment:
First Step: Refill your wallet
Open your platform wallet, choose the currency which you'd like to use for trading, click 'Refill' button in the currency row.


You'll see a chosen cryptocurrency address. Any amount you send to this address will be deposited on your wallet.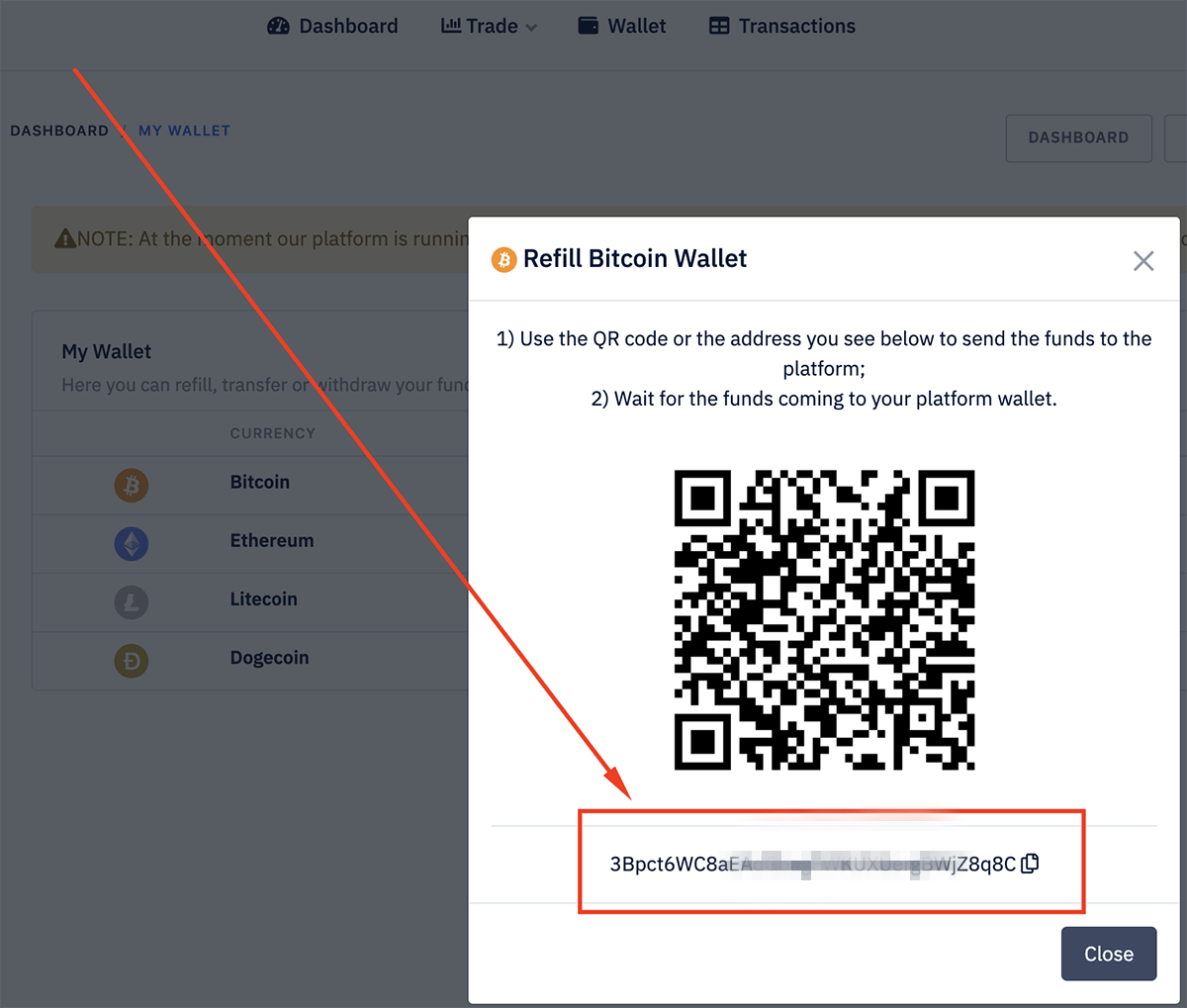 Second Step: Rent a bot
Click 'Rent Bot' button on your Dashboard

Choose your Bot and Bot refill currency, and click 'Rent Bot' button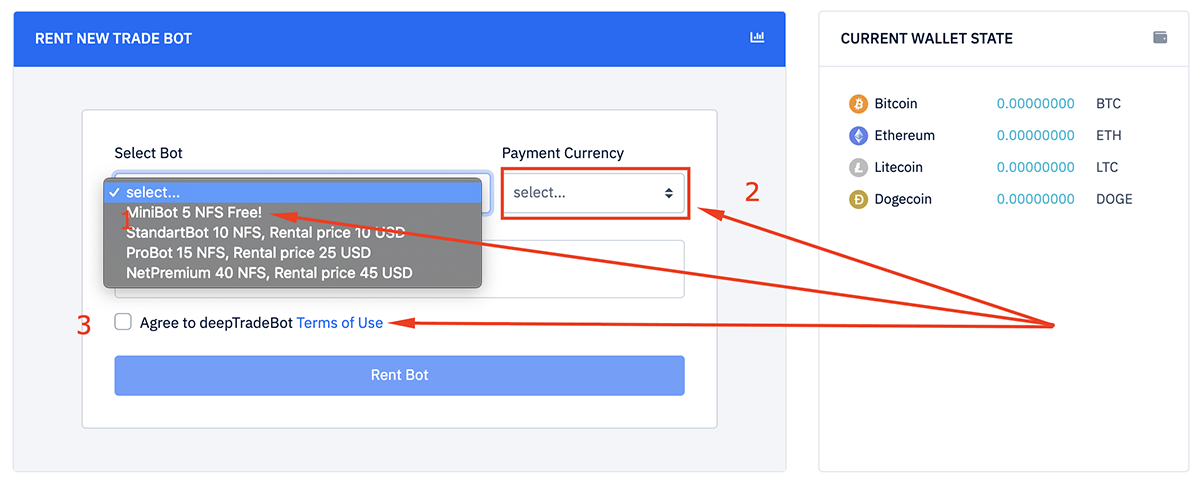 Third Step: Refill trade account
In the bot rental confirmation window click 'Refill Now' button, choose refill currency, enter the trade account refill amount and click 'Refill Trade Balance' button.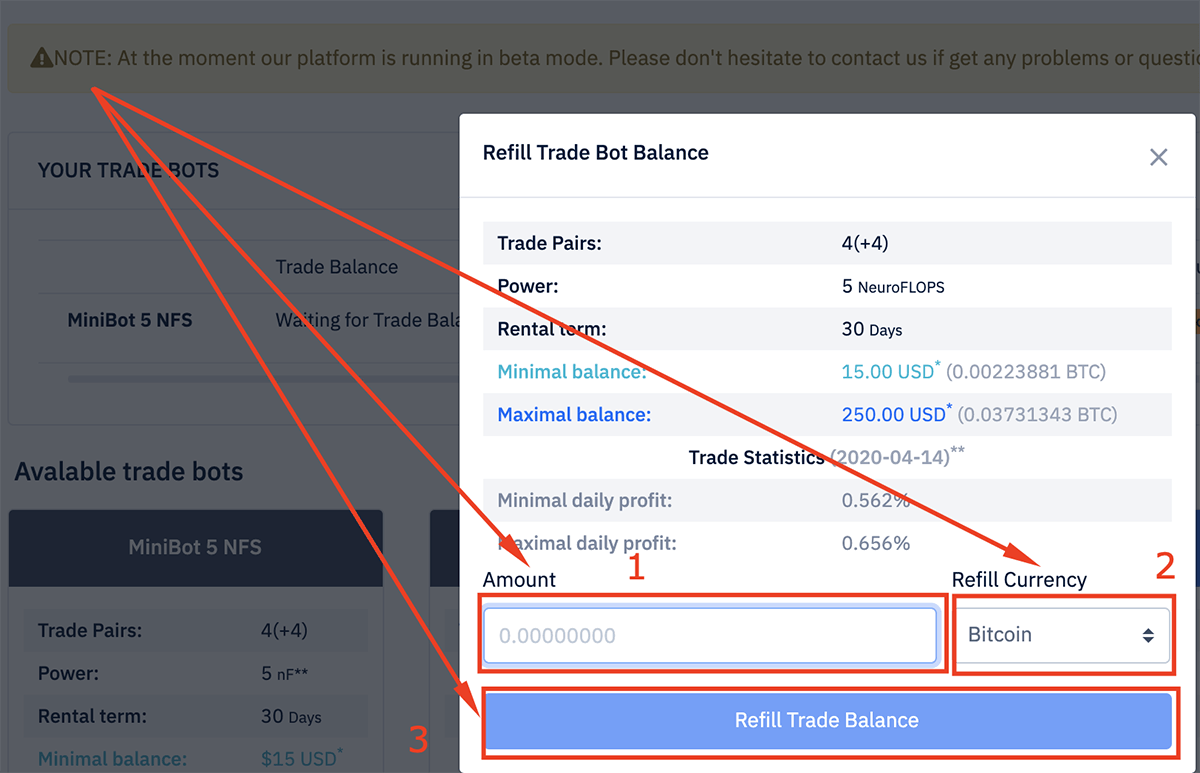 Fourth Step: Receive profit
Within an hour your new bot will start trading and you'll start receiving profit into your wallet on the platform. You will be able to withdraw it anytime by clicking the 'withdraw' button in your wallet section:

Referral Commissions
Deeptradebot.com offers 4 levels of the partnership program. The percentage you will receive from each level of partner is 3%, 1.5%, 1% and 0.5%. If you register through my link, then welcome to submit RCB request from top menu of my website, and I will give 3% of your deposit back to your personal wallet.
Payment Options
PerfectMoney, Payeer, Bitcoin, Litecoin, Ethereum, BitcoinCash, Dash and Dogecoin.
Withdrawal Type
Withdrawal requests will be processed instantly. The minimal withdrawal amounts are described below:
| | |
| --- | --- |
| Bitcoin | 0.00010000 BTC |
| Ethereum | 0.01000000 ETH |
| Litecoin | 0.01000000 LTC |
| Dogecoin | 1500.00000000 DOGE |
| DashPay | 0.01000000 DASH |
| Bitcoin Cash | 0.01000000 BCH |
| PerfectMoney | 1.00 PM USD |
| Payeer USD | 1.00 PEE USD |
Domain Registration
Domain Time: 2020/01/11 - 2023/01/11

IP Address: 104.22.26.235 - 3 other sites hosted on this server

IP Location: California - San Francisco - Cloudflare Inc.

ISN: AS13335 CLOUDFLARENET, US (registered Jul 14, 2010)
More Information
Deeptradebot.com has a professionally designed template for its website, together with unique options. Admin registered EVSSL and company certificates. What's more, it supports 15 languages currently, and almost satisfy all investors worldwide. If you want to keep up with more updates from Deeptradebot.com, then you can follow their social accounts at the bottom of their website, including Facebook, Twitter, Telegram and Youtube. For more questions about the program, you can contact their support through the online chat box on their website. Welcome to try with your spare money.
2020-06-23: Deeptradebot.com has integrated the fiat currencies into the platform: Payeer and PerfectMoney are now available for bot rental operations.
2020-07-14: Deeptradebot.com is starting to invite strong MLM leaders to cooperate. If you are a leader and would like to claim the Club Membership, or you would like to represent the Club to some of your friends, you will find the conditions and the necessary .pdf materials on the following page: https://deeptradebot.com/banners/deeptradebot-club-en.pdf
2020-08-12: Deeptradebot.com completed first cycle of 60 days on my monitor. For rewards, I gave it a 728*90px banner for free.
2020-10-14: Deeptradebot.com completed another cycle, and I reinvested $275, this time I rent the $25 bot. Thanks admin for good work.
2020-10-20: Deeptradebot.com provides investors with chance to win free bots every weekend. All what you need to do is just to complete an easy task. Read details here: https://deeptradebot.com/win_a_bot
2020-10-26: Deeptradebot.com plans to realise within the global "INTERNAL WALLET" update which launch is planned for the 1st quarter of 2021, and now it is under a Beta Test!.
2020-10-27: Deeptradebot.com opens internal currency exchange operations between platform traders are under a Beta test already.
HYIPer.net » Deeptradebot.com Review: 0.562% - 1.52% daily for 30 - 90 days