Crypto-futures.trade is a high yield investment program which provides short term deposit plans, and the shortest investment cycle is only 24 hours. Admin bought listing on my website two days ago. The first withdrawal request was already processed successfully into my PerfectMoney account yesterday, now let me introduce it to you in details.
Already scam, don't invest!
Started: 2020-09-18
My deposit: $200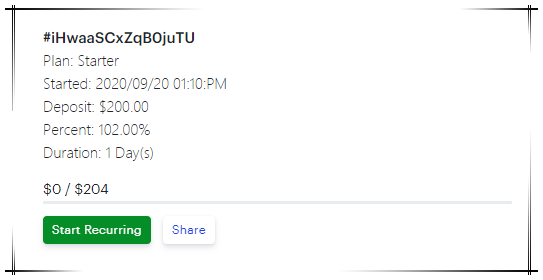 Investment Plans
Deposit $10-5000, earn 102% after 1 day

Deposit $500-10000, earn 122.5% after 7 days
Promotional Rewards
Crypto-futures.trade offers 4% referral commissions for its promotional leaders. If you join under my link, welcome to submit RCB request within 24 hours after your investment. I will give 4% of the deposit back to your personal wallet.
For example, if you deposit $100 into the one-day plan, then I will give $4 back to you, so that your total profit will be $6($4 RCB plus $2 investment profit).
Payment Options
Currently, Crypto-futures.trade only accepts PerfectMoney, but don't worry, admin told me that new payment systems will be added within a week.
Withdrawal Type
All withdrawal requests will be processed manually within 24 hours, and the minimum withdrawal amount is 0.1 dollars. If you submit withdrawal request on working hours, I think it will be processed very quickly, my last one only takes less than one hour.
Whois Details
Domain Time: 2020/09/13 - 2021/09/13

IP Address: http://190.115.21.4/

IP Location: Belize - Belize City - Ddos-guard Corp

ASN: AS262254 DDOS-GUARD CORP., BZ (registered Dec 05, 2012)
Summary
Crypto-futures.trade runs its website on an original designed template. It now accepts 6 languages, and you can choose the one which is the most suitable for you. As for the profits of investment plans and referral system, they are both in normal range. Currently, we can see that Crypto-futures.trade website is still under constructions, because all media links at the bottom of its website are still blank(Facebook, Twitter, Instagram, Whatsapp), but I think everything will be done soon, maybe within this week.
What do you think about Crypto-futures.trade? Welcome to leave your opinion below.
Contact
Email: support@crypto-futures.trade