Quantum-tech.io is a high yield investment program which started on 14th April 2020, and already 290 days online now. It mainly provides long term deposit plans, and the investment cycle varies from 45 to 80 business days. Admin bought listing on my website two days ago and my first withdrawal request was already processed successfully into wallet. Now let me introduce it to you.
Already scam, don't invest!
Started: 2020-04-14
My Deposit: $200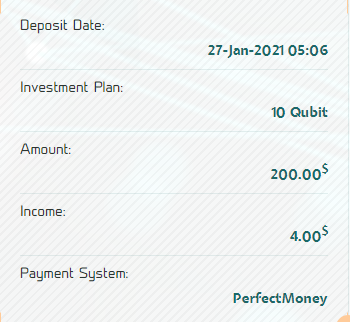 Investment Plans
Minimum spend $25, earn 2% each business day for 80 business days and principal included
Minimum spend $500, earn 2.7% each business day for 60 business days and principal included

Minimum spend $1000, earn 3.5% each business day for 50 business days and principal included

Minimum spend $5000, earn 4% each business day for 45 business days and principal included

(coming soon)
The fourth plan is not available currently but will come soon. So you can choose from the first three plans according to your investment experience and financial strength. Let me take the first plan for example, you can spend $25-499 to join, if you invest $100, then you will earn $2 from Monday to Friday and there is no interest on weekends, after 80 business day(112 calendar days), you will earn $160 totally. You can withdraw the daily profits anytime as long as it reaches the minimum withdrawal limits.
Referral System
Quantum-tech.io offers a 3-tier referral system, which is 5%, 2% and 1%. You don't have to make a deposit to get commissions, all you need to do is just to register and share invitation links to your friends or relatives, once they make a deposit, you will earn commissions.
If you join under my team, I will give 5% of your deposits back to you. Welcome to submit RCB request within 24 hours after investment. I will transfer the money back to you once admin processes it.
Bounty Program
VIDEO YOUTUBE - Maximum reward 100 $ or equivalent in crypto currency.

POST ON TWITTER - Maximum reward 30 $ or equivalent in crypto currency.

POST ON FACEBOOK - Maximum reward 40 $ or equivalent in crypto currency.

FACEBOOK REVIEW- Maximum reward 60 $ or equivalent in crypto currency.

INSTAGRAM POST- Maximum reward 40 $ or equivalent in crypto currency.
The amount of the rewards depends on your ability to be original, creative and convincing, as well as on the quality and visibility of the content. Click and read the guidelines to maximize your profit.
To send your reward request use the contact form, you must specify: your username, a complete description of your contribution, the relative link. Admin will review your work and you will receive the evaluation within 3 business days.
Payment Options
PerfectMoney, Bitcoin, Litecoin, Ethereum, Dogecoin and Epaycore.
Withdrawal Type
The funds will be sent to the wallet you specified within 24 hours of the request, from Monday to Friday. The minimum withdrawal amount varies depending on the currency, as for the Dollar, this amount is $1, for BTC the minimum withdrawal amount is 0.0005 BTC.
Whois Details
Domain Time: 2020/04/07 - 2022/04/07

IP Address: 185.61.154.228 is hosted on a dedicated server

IP Location: England - Washington - Matthew Russell

ASN: AS22612 NAMECHEAP-NET, US
Summary
Quantum-tech.io integrates Goldcoders script and runs its website on an orginally designed template. It currently supports five languages - ENG, RUS, CHN, JPY and VIET. You can find its Telegram channel and Facebook page below, join them to keep up with the latest updates if you are interested in this project.
Maybe old investors already know that Quantum-tech.io changed template and deposit plans 20 days ago. Yes, correctly. So we can say that Quantum-tech just completed its sleeping stage days ago. We hope it can continue to pay for a long time so that more early investors will earn. If you already invested, welcome to leave your payment proofs below.
Contact
Email: info@quantum-tech.io

Telegram Channel: https://t.me/quantumtechnologiesltd

Facebook Page: https://www.facebook.com/quantumtech.io
2021-02-08: Quantum-tech.io has been 300 days online now, congratulate.
HYIPer.net » [SCAM] Quantum-tech.io Review: 2%-4% daily for 45-80 business days