Car-company-ltd is a high yield investment program which started on 04th April this year. It is operated by the same admin of yacht-company which must be familiar to old investors. It provides a deposit plan and you can release the principal anytime after 15 days, which will be attractive for some investors. I joined it two days ago and first withdrawal request was already processed successfully yesterday. Now let me introduce it to you all.
Started:

2021-04-04


My Deposit:

$500


Investment Plans:

0.8% daily for lifetime with 1%-6% loyalty bonus, principal release anytime after 15 days


Minimum Investment:

$10


Referral Commissions:

5%-4%-3%-1%-1%


RCB:

5% of your deposit amount, you can request here


Payment Options:

PerfectMoney, Payeer, Epaycore, BTC, ETH, USDT(erc20 and trc20)


Withdrawal Type:

within 24 hours


Minimum Withdrawal:

Bitcoin/Ethereum/Tether is $25; PerfectMoney/Payeer/Epaycore is $0.01

Investment Plan
Car-company-ltd only provides one investment plan. The minimum deposit is $10, you can earn 0.8% daily for lifetime and principal can close after 15 days, if you don't withdraw your principal, then you can continue to enjoy daily profits.
Loyalty program
+1% to the body of the deposit, if you do not withdraw the body of the deposit within 1 month.
+2% to the body of the deposit - within 2 months
+3% to the body of the deposit - within 3 months
+4% to the body of the deposit - within 4 months
+5% to the body of the deposit - within 5 months
+6% to the body of the deposit - within 6 months
Suppose if you invested 1000$ and within one calendar month did not terminate the deposit, then you receive a bonus of 1% to the investment amount. If your deposit has been continuously working for 2 months , the system will charge you a bonus already in the amount of 2% to the principal amount of the deposit.
At the same time, you can withdraw your daily profit at any time, every day!
Referral Commissions
Car-company-ltd provides 5 level referral commissions for promoters, which is 5%, 4%, 3%, 1% and 1%. It is calculated as follows:
When replenishing the balance by your partner, for example, for $1000б the system will automatically charge you 5% of this amount.

When you re-open a deposit by your partner, you will be credited with funds ONLY in the amount exceeding the previous deposit.

If the amount of the next deposit does not exceed the previous maximum deposit, referral bonuses are not credited.
How to invest?
❶ Click this link to register an account:
❷ Login your account, click "Add funds" button, choose a payment method, type into amount, then click "Top up" button to add funds into balance: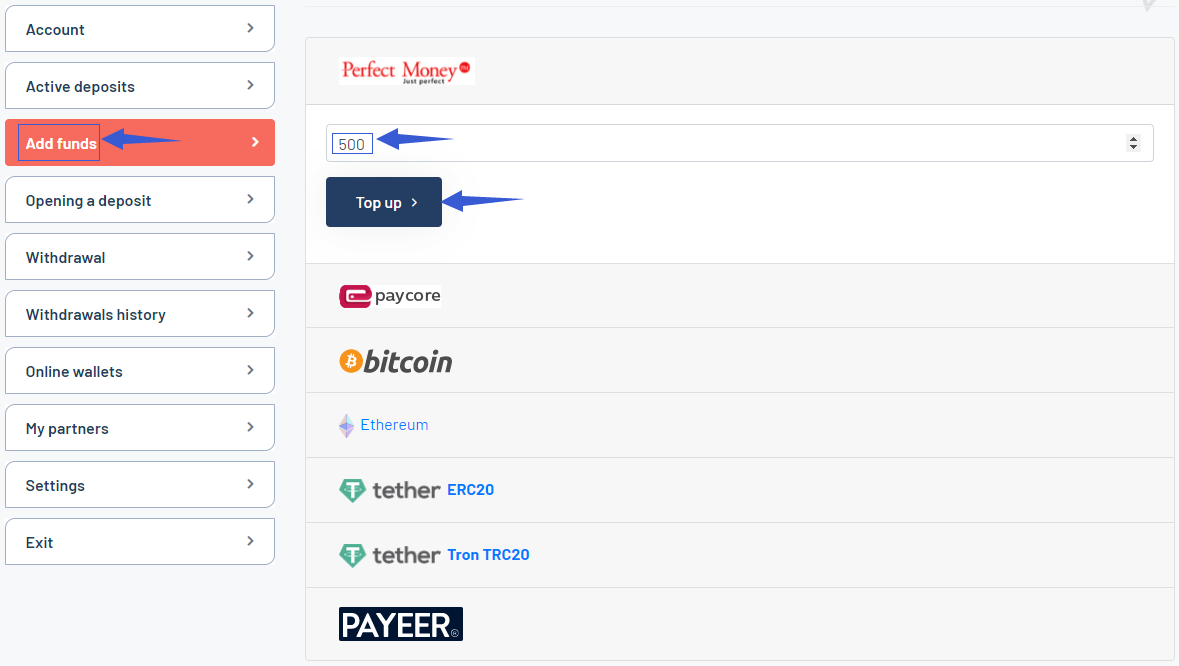 ❸ Click "Opening a deposit" button, type into investment amount, click "Open" button to complete investment.

Summary
Car-company-ltd is operated by an experience team. This team is also running a project called "yacht-company" which already pays for 587 days online and is still paying. We don't know whether Car-company-ltd can survive as long as yacht-company, but at least we can know that it is operated by an experienced admin and this is already enough for us. There is a page called "Our cars" in top menu, where you can contact admin to buy their cars, I didn't testify its price and process, I only think that this is a highlight for the project.

Why I choose it?
Project run by an experienced team

Reasonable profit for investment plans and referral system

Initial deposit can release after 15 days
HYIPer.net » [SCAM] Car-company-ltd.com Review: 0.8% daily and release principal anytime after 15 days