Eternity5.com started on 17th Sep 2019. It mainly provides medium term deposit plans. Admin bought Premium listing on my monitor yesterday, my first withdrawal was just processed automatically an hour ago. Now let's look at some data about it.
Already scam, don't invest!
Investment Plans
Eternity5.com only provides one investment plan. You can earn 5% each calendar day for termless. Deposits are not paid back as they are already included in daily interest. There is no minimum and maximum deposit limits, so you can start with any amount of money. But don't invest what you can't afford to lose.
Payment Methods
Eternity5.com only accepts Bitcoin as deposit and withdrawal method. During the past 3 days, Bitcoin price fluctuated greatly, currently its price is $8000 according to Coinmarketcap, we don't know when its price can go up to $10000 again, but I hope that it won't go down further.
Withdrawal Type
Withdrawal requests will be paid automatically to your Bitcoin address directly. The minimum payout is 0.0001 BTC and there is no maximum. So you need to do nothing but watch the balance of your Bitcoin wallet increasing after investment.
Referral Commissions
Eternity5.com offers profitable referral commissions, because you can earn up to five levels. The Normal rates are applicable for all registered users. You will get 5%, 1%, 1%, 0.5% and 0.5% from their deposits. The VIP rates are only for most successful promoters. You will get 7%, 2%, 1%, 1% and 1%. To get the VIP Rates, you should contact the admin to verify your promotional abilities. Referral commission is credited instantly to your account's balance and then paid out automatically between 7:00 and 8:00 am GMT.
Listing Type: Premium Listing($500)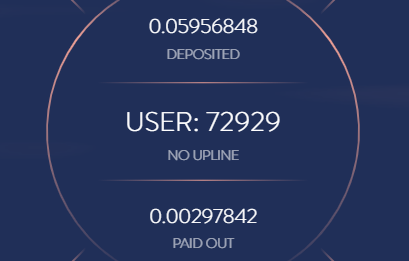 Other information
Eternity5.com designed an original and brief template for its website. To improve the security and professionalism, the admin also registered EVSSL and UK company certificates, the registration number is 12139731. When browsing the FAQ page, I saw a rule said that "referring yourself is allowed. Just sign up with different emails and btc addresses", so if you don't want to be others' downline, you can refer yourself to earn the referral commissions, but I suggest each investor should choose trusted monitor or blog as your upline, so when your account has problems, they can help you to communicate with the admin.
Program Latest Updates
01st Oct 2019: Withdrawal not automatical and pending, don't invest just now until further notice
HYIPer.net » Eternity5.com Review: earn 5% daily for termless