Hello, dear HYIP investors. Hope everything goes well with you. During the past three days, something happened in HYIP industry. In this article, I will write some news from Cryptoswi.com, Limpid.capital and Hex-land.com.
This project has been online for 62 days till now. It mainly provides medium term deposit plans, and the shortest investment cycle is only 3 days, that is to say, you can get back all profits and initial deposit after exact 3 days. During the past 3 days, Hex-land.com published some exciting news.
(1) Hex-land.com launched reward activity, just tell your story and opinion about Hexland, then you will have the choice to win $50-150 deposit rewards or $1 bounty bonus. This is the news below:
Two months have passed since the launch of the HEXLAND online platform.

Our project attracted a huge number of investors, and we wondered what path they had and how they became part of HEXLAND.

We really want to hear your story. You decide how to start it, what to talk about. And since, due to temporary difficulties with offline seminars, we cannot meet in person, let's get acquainted online.

Waiting for your stories! The authors of the three most interesting, in our opinion, will receive gifts from HEXLAND.
For first place: $150 deposit for 36 days

For second place: $100 deposit for 36 days

For third place: $50 deposit for 36 days
Each participant whose history has been moderated and complies with the rules will receive $ 1 in the form of a Bounty bonus.

The competition will last exactly a week. The results will be announced on April 8, at 20:00 UTC.

Rules:

The story should be no shorter than 1000 characters.

The story must be posted on the company's website in the stories section
So, if you are an investors of Hex-land and want to earn extra money from the story contest. Then don't hesitate, just write it down and submit. You can write with your native language, because all languages are accepted:


(2) Company development plan for the 4th series of webinars, this is the news below:
We are pleased to announce the 4th series of webinars. And this time the webinars will be held in 4 languages.

Since the previous series of webinars, the company's news has increased significantly.

We already talked about the first offline seminar in Seoul (https://hex-land.com/news/dA5LpBJMHvpkR4J8y), which will be held on April 5, but did not say that we have planned seminars in other countries. We will inform you about the places and time as soon as the situation with COVID-19 becomes clear.

The webinars will address the company's development plans for 2020.

1. Presentation of the application for Hexbank on April 20, 2020.

2. Inclusion of additional destinations at the Hexland Domestic Exchange.

3. Installation of power plants on renewable energy sources, spring-summer 2020.

4. Launching own mining capacities and providing access to cloud mining, spring-summer 2020.

5. Meeting of the co-founders for the semi-annual reporting in July 2020.

6. Launch of a cryptocurrency exchange based on Hexbank in September 2020.

7. Opening of the investor club, the placement will be put to a vote among investors.

8. Opening of offices in Korea, South America and Canada, opening dates will be announced later.

9. Seminars and meetings with investors, places and time we will inform additionally.




Webinar Schedule:
Webinar in Chinese:

Date: 04/03/2020

Time: 20:00 (UTC + 8, Beijing).

Host: 谁家 老七
Webinar in Korean:

Date: 04/04/2020

Time: 13:00 (UTC + 9, Seoul).

Host: Udaman from GosuTV

Webinar in Russian:

Date: 04/05/2020

Time: 20:00 (UTC + 3, Moscow)

Presenter: Anton Naumov

Webinar in English:

Date: 04/06/2020

Time: 17:00 (UTC, London)

Presenter: German Permyakov
So if want to know what information they will share in the webinar, then don't forget to attend it.
(1) Online sports nutrition store Limpid.Market
Limpid Market is the first project of the company's planned startups for the current year, the launch of which has already taken place and its development is rapidly gaining momentum.

Recently, we received the first batch of sports and healthy food products developed under our brand. One of the key principles of Limpid Market is to provide its customers with the best quality products. Therefore, it is very important to us the opinion of potential consumers of these products – people who lead an active lifestyle, as well as athletes who train. To do this, we invited several groups of athletes who are constantly training to add our products to their daily diet, and share their feedback about the quality and personal feelings of taking these products.

Today we want to present you the first video review from this series: https://www.youtube.com/watch?v=YgqYiAy-0j4&feature=youtu.be

You can also visit the shopping website here: http://limpid.market/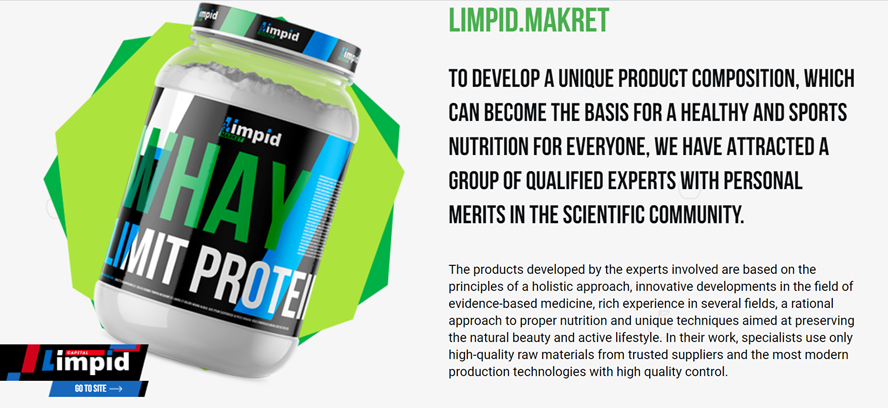 (2) Limpid.capital got back PAYING status again

Days ago, Limpid.capital got several scam or problem statuses on some HYIP monitors and blog, but starting from yesterday, all the statuses were changed back to paying. This is a piece of great news for current investors, congratulate. Hope everything is fine with Limpid.capital.




Cryptoswi.com


This program scamed 3 days ago. When you open their website, it said that technical work is under construction, but this is only an excuse. It paid online for 235 totally. And the shortest investment cycle is only 15 working days, so I think that it is a good project, and admin already tried his best. Waiting for his next program.