Mitoticmoney.com is a high yield investment project which started on 09 January this year. You can earn 1.4%-1.8% each business day for 125-175 business days, including revenue bonus, tree bonus, affiliate bonus and fortnight mania. Now let's see the details.
Register: https://mitoticmoney.com/register/MM845454/left

Started: 2023-01-09

Investment Plans: 1.4%-1.8 each working day for 125-175 working days

Payment Options: BTC / LTC / ETH / BCH / TRON / USDT-TRC20 / DOGE

Referral Commissions: 8%-11% (depend on investment plans)

Binary Commissions: 9%

Withdrawal Type: instant (every 15th and 30th of the month)

Withdrawal Fees: 7%

Minimum Withdrawal: $15

UK Company Certificates: https://hyiper.net/mitoticmoney-UK.pdf

US Company Certificates: https://hyiper.net/mitoticmoney-US.pdf

Social Accounts: Facebook; Instagram; Twitter; Linkedin; Youtube; WhatsAPP; Telegram

Presentation PDF: https://hyiper.net/mitoticmoney.pdf
Investment Plans
$60-$3999, 1.4% each working day for 125 working days and principal included
$4000-$49999, 1.6% each working day for 125 working days

and principal included

$50000-$99999, 1.8% each working day for 125 working days

and principal included

$60-$3999, 1.4% each working day for 145 working days and principal included
$4000-$49999, 1.6% each working day for 145 working days and principal included
$50000-$99999, 1.8% each working day for 145 working days and principal included
$60-$3999, 1.4% each working day for 165 working days and principal included
$4000-$49999, 1.6% each working day for 165 working days and principal included
$50000-$99999, 1.8% each working day for 165 working days and principal included
$100000 or more, 2% each working day for 175 working days and principal included
Pots and transfers

Mitotic Money likes to keep it very simple. There are 2 pots (wallets) for all your collective earnings at Mitotic Money. The Per Diem Pot for ROE/Daily returns. The Flash Pot for referrals, binary, bonuses and barrier returns. You can transfer from your Flash Pot to your Per Diem Pot and from your Per Diem Pot to another Per Diem Pot. There are no charges on wallet transfers.
You can reinvest using only Per Diem Pot. Therefore, if you want to use funds from the Flash Pot, you can transfer them to Per Diem Pot and use all your funds for reinvestment available in your Mitotic Money account. The only condition is- Suppose you investing $100. Therefore, $60 can be paid from Per Diem Pot(60%) and $40 should be using crypto(40%).
FORTNIGHT MANIA

As the name suggests, this is valid for 15 days or fourteen nights. All the rush to claim it can be done within 15 days of the time period. You should have a minimum given investment to your account, and respective direct and indirect downline business. If you manage to do all this in a span of 15 days, you will be entitled to a bonus on your total downline business (direct and indirect) and also a free subscription to the respective bonus slab. Let's consider the first slab for a detailed explanation. You shall invest your own account with $750 or multiple subscriptions amounting to $750 and also manage a total downline business of a minimum of $100000 (direct and indirect), all of this in 15 days. And you are entitled to 1% of the total downline business you've managed to bring in, which is more than $100000, and a free subscription of $750 to your own account, the same applies to all slabs in Fortnight Mania.
You are accountable for affiliate bonuses only when you have a minimum of 25 new active direct referrals for the current period. The bonuses are calculated for every 15 days starting from 1st of every month.
LEADERSHIP PROGRAMS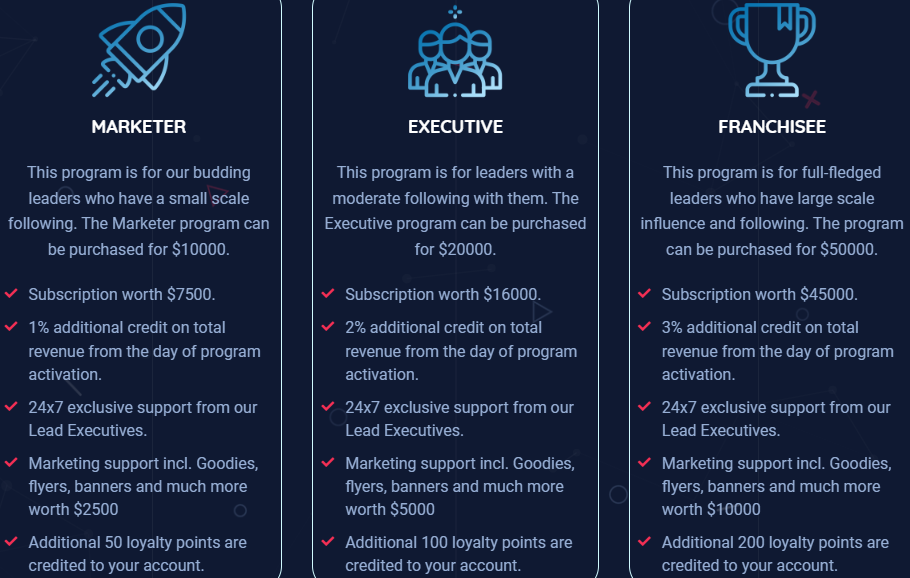 BARRIER FUNDING
Barrier funding by Mitotic Money lets you store all your Cryptocurrencies at a frozen value. Rightly called so this acts as a barrier to the speculations arising in the currencies. Users can store their coins and cryptocurrencies at current market prices in equivalent values of dollars. The stored funds shall remain unaltered at any given time irrespective of any speculation arising concerning cryptos. Basically, the value of dollars that represents the amount transferred using cryptocurrency is the amount you get on withdrawal with additional barrier returns ranging from 4.5% - 14.5% monthly according to the period invested. No processing fee is levied on this entire transaction. That's what's on offer with Mitotic Money.
Basically $200 stored turns to $410 in a year's time with no risks involved or collateral damage. Cryptos are fortune funds and the most volatile. Thus we undertake the risk of losses by providing a minimum of fixed 4.5% on monthly basis. With years of experience and study our team has developed the knack to avoid speculation loss. There are times and evidence that many cryptos have vanished or declined massively. You can choose to wait and lose your funds or gain fixed barrier returns without doubts and hustle. Only certain cryptos on average provide 20% - 25% returns over a year. But the base price doesn't multiply every year. Mitotic Money compensates barrier returns for increments in cryptos and covers any losses without any charge.
PROS OF BARRIER FUNDING
Any downward speculation in crypto will not cause a decline in your funds.

Fixed barrier investment returns of 4.5% and more are ensured on the stored funds.

No processing fee or charges to be paid at the time of withdrawal.

The barrier returns are credited to your flash pot every 30th day and are immediately available for withdrawal.
NOTES
A minimum of $200 is required to store your funds at Mitotic Money. You can store any amount above $200.

Any user who opts to continue for the desired term will be gaining barrier returns at the prescribed rates.

The stored funds are in form of cards which can be accessed from your Portfolio. Every time you choose to invest in barrier funding, a new card is generated, you can access them in your Portfolio.
Only if the stored funds are retained for a considerable length of time a user is entitled to receive incremental returns on them. On completion of 12 months of storage a user can withdraw the funds or re-enter the contract from the beginning. Mitotic Money has contracts with various vendors and organisations for a period of 1 year. This is to ensure timely cashback and guarantee of funds. Thus Mitotic Money has a contract cycle of 12 months for the Barrier Funding Program. This is to reduce the risk element of losing funds.
Cryptos speculate on a large scale and quantitatively, causing small and retail investors to lose massive funds. The giants override the losses by infusing supplementary funds to cover the margins. Barrier Funding Program is also very useful for massive investors in an unstable and volatile market. Instead of losing huge chunks of wealth a user can store funds at Mitotic Money and at the same time match up with the benchmarks of earnings in the industry.
Loyalty Points
These are special points offered by Mitotic Money on the purchase of subscriptions according to the days of investment. 5 Loyalty points are offered for direct referrals. You can use these loyalty points at the upcoming store "MMedze". Loyalty points entitle you to claim rewards, discounts on gadgets and redeem coupons.

Notice: Before investment, click and check whether it is paying: HyipEye, H-metrics

HYIPer.net » Mitoticmoney.com Review: 1.4%-1.8 each working day for 125-175 working days