Good afternoon, dear HYIP investors. In this article, I will introduce an HYIP project called Emine.to which offers a long term deposit plan. It started on 02nd Jul 2019. The admin bought Premium listing on my monitor yesterday. My first withdrawal was processed instantly minutes ago, now let's look at it together.
Already scam, don't invest!
Investment Plans
Emine.to only provides one investment plan. With a minimum deposit 0.001 BTC, 0.025 ETH or 10 USD. You will earn 3.6% per day for 60 days. Profit will be calculated every minute. For example, if you deposit $100, then you will earn 3.6 dollar per day, and you can withdraw your daily profit anytime you want, after 60 days, you will get 216 dollars totally. It need 27 days for you to break even, so starting from the 28 days since your investment, you will start to make net profit daily.
Payment Options
Emine.to accepts three kinds of ecurrencies, they are PerfectMoney, Bitcoin and Ethereum.
Withdrawal Methods
Investors can receive their money instantly after withdrawal requests are submitted. Minimum withdraw amount is 0.0005 BTC, 0.025 ETH or 5 dollars for PerfectMoney.
Referral Commissions
Emine.to provides three level referral commissions, it is 6%, 2% and 1%. Each user can create only one account from one computer (ip), if admin finds out that you have multiple accounts, all of them will be frozen and the funds forfeited without any notice, so you should be careful about this rule, in fact, most HYIP projects forbid multiple accounts.
Listing Type: Premium($500)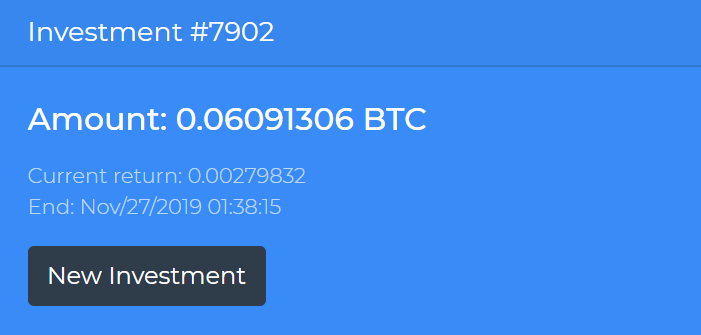 Other information
Emine.to runs on an original template. It supports multiple languages through Google translation widget. At the left bottom side of its website, you will find a Telgram icon, click it and you will be redirected into the official group of Emine.to. There are many real investors in that group, so you should take full advantage of it if you are already an active member, because Telegram group always provides timely news about the project, in most cases, the updates will be more quickly than monitors or forums.
Emine.to registered both Hongkong and UK company certificates and you can find the verification links at the bottom of its website.
At the navigation, you will find a botton called "PROOF", click into the page and you can see many latest payment proofs, hope such data will be helpful to you.
If you are a newbie in HYIP industry and don't know where to buy Bitcoin, Ethereum or PerfectMoney, just click the "How to buy Bitcoin" button at the navigation, then you will find the currency exchange platform in your country.
HYIPer.net » Emine.to Review: 3.6% daily for 60 days and principal included